At Doyle & O'Donnell, We Specialize In Helping Our Clients With Their Slip And Fall Accidents Needs
SACRAMENTO SLIP AND FALL ACCIDENT ATTORNEY
When someone is injured as a result of unsafe property or building conditions, they may have a right to make a claim for their damages against the owner of the property.
In some states the landowner's duty to protect an entrant on the land depends on whether that person is a trespasser, licensee or an invitee. The landowner's duties are different for each type of entrant. The landowner owes less of a duty to protect the trespasser then the other types of entrants. The landowner's duty of care is highest for business invitees. Some states, however, have done away with these multiple classifications in favor of one standard of "reasonableness under the circumstances" of a particular case.
If you have been injured due to a slip and fall, you may be entitled to the following benefits: medical bills, wage loss, loss of earning capacity, pain and suffering, emotional distress and disfigurement.
As with any accident, there are a number of steps you need to take to ensure everything with your claim goes as smoothly as possible.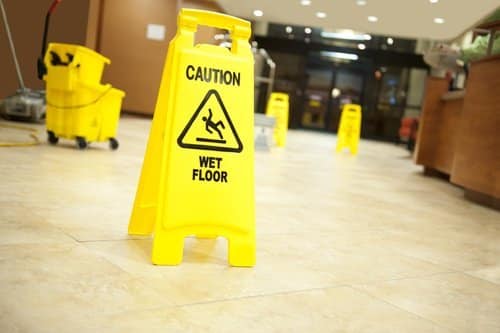 For your medical problems, see a doctor as soon as possible. Often times, an injury from a slip and fall accident can be underestimated. You may feel fine now, but some injuries, particularly neck and back injuries, can become quite painful and debilitating in the long-term. A paper trail is also important throughout the process.
Get as much information you can about your accident. Key items include the names, numbers and addresses of all the people involved, including witnesses. You will also need to keep track of insurance information and the reporting process. Make copies.
WE SPECIALIZE IN THE FOLLOWING AREAS:
Please do not talk to anyone about your accident other than law enforcement personnel. Anything you say to insurance company representatives or investigators could make it harder for you to settle your claim. It is also a good idea not to sign anything, particularly some kind of release form, without talking to a lawyer first. This is just a smart way for you to protect yourself.
It is important to know what to do to protect the legal rights of yourself and your loved ones. Selecting the right attorney is an important decision. You should choose someone who is experienced, aggressive and dedicated to working to get fair compensation for your injuries. Over the past we have successfully handled thousands of injury and death cases. That is why you should contact the Law Offices of Doyle & O'Donnell.
GET LEGAL ADVICE FROM AN ACCIDENT ATTORNEY NOW
No Fees Unless We Win Your Case!
When You've Been Injured, We Fight And Win For You!