At Doyle & O'Donnell, We Help Our Clients With Their Boating and Personal Watercraft Accident Needs
SACRAMENTO BOATING ACCIDENT LAWYER
Most people don't know of the risks that come with operating a boat. While there are some boating laws to keep individuals safe and avoid accidents, watercraft crashes do occur. These crashes are as common and severe as car and truck accidents. A lot of boating accidents are a result of negligent driving and failing to adhere to the boating laws. If you don't want a boating accident to ruin your day, get in touch with a Sacramento boating accident lawyer. We help you understand what you need to do to recover funds from the party at fault.
Thousands of boating accidents happen in California each year. Getting injured in such an accident can cause stress. This is more so if you know the boat's operator and he or she is responsible for the mishap. It doesn't matter whether a friend, a family member or a professional company is at fault. What matters is that you receive the required compensation for your recovery.
Hire a Professional Sacramento Boating Accident Lawyer
With the help of a Sacramento boating accident lawyer, you can get all the information you need for the process. We help you get rid of some of your worries and recover as much as possible from your injuries. We are a team of diligent attorneys who investigate the case, determine who is at fault and how much settlement can you claim.
Drownings are the worst water injuries. They can occur anywhere around the boat, swimming pools, and other water body areas. Attorneys at our firm provide experienced counsel to assist individuals involved in boating accidents.
Our Sacramento boating accident lawyers are well versed with the different situations like drunk drowning, or hypoxemia as a result of staying underwater for too long. We help to bring maximum compensation for injured clients and survivors of boating accidents.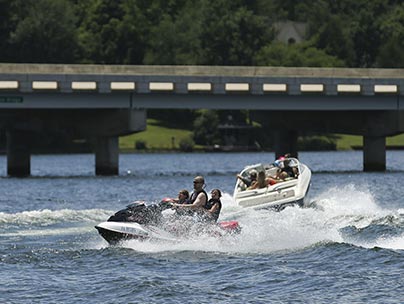 Causes of Boating Accidents in Sacramento
There are several reasons for boating accidents. Depending on the cause and the severity of the accident, a Sacramento boating accident lawyer can provide guidance. The most common causes that these lawyers have to often deal with include:
Untrained boat operators
Reckless boating or attempt to speeding
Influence of alcohol or drugs
Carrying more passengers than the maximum limit for the watercraft
In most cases, it is possible to avoid the accident if all parties involved are cautious. However, negligence often results in accidents. As a result, the victims or injured can claim financial compensation.
WE SPECIALIZE IN THE FOLLOWING AREAS:
They have an attorney named Ashley working here and she's amazing!!! So sweet and knowledgeable!!
Dan and his staff were professional, extraordinarily helpful, friendly and communicated the progress of my case consistently. I hope I never need an injury attorney again, but if I ever do I wouldn't use anyone else.
Alex Velasquez
2023-03-17
Excellent law firm, nice employees that tend to your needs. If you need a personal injury attorney, go here, you'll be making an excellent choice.
I am very happy to have chosen Dan O'Donnell as my attorney in a recent personal injury case he handled. He and his entire team, Jesse, Ashley, Guille, all were very kind, efficient and continually kept me up to date on everything they did. I felt very confident in them handling every aspect of my case. You absolutely will be in very capable hands in choosing Dan! Thank you am for helping resolve my case!
If I could give more stars I would. Everybody was very nice and helpful. They kept me informed every step of the way and made sure I was taken care of. The hospitality of this firm is amazing and I can't thank them enough.
Felt very comfortable guided me threw step by step where available for concerns at a ring from phone call. Highly recommend.
I've been with Dan and the office since 2017 and as of today2022 I settled thank goodness it was a long and forever case but not cause of them but the middle people but none of the less and I can't thank Dan and his team for everything they have done for me! I would recommend him to anyone else who needs a personal Lawyer!!! Thank you Dan
Amazing work
Charlene Jones
2022-04-10
Dan and staff were responsive to my needs for information and clearly explained the options available to me. Had a good experience and definitely would recommend this firm.
I highly recommend Doyle and O'Donnell, they handled my case quickly and professionally and got great results.
I was injured in an automobile accident and I needed help navigating all the insurance companies and inquiries.  I hired Doyle and O'Donnell and it was the best thing I could have done.  They handled everything and fought to make sure I received everything I was entitled to receive.  It was a very pleasant experience and everyone in the office was super friendly.  I recommend them for your legal needs.
I was rear-ended and ended up with pain. I tried to go with the person's insurance company but they were a joke. I found this firm and they took my case. They fought for me against a company that was so awful to deal with. In the end, they won my case. They were great with answering questions and giving me information along the way.
I give Margaret 5 star on her services. She took our case when no one would. Other lawyers wanted the big accident cases only and we were turn away. I thought we had to fight the insurance ourselves until I called and talked to Margaret. She was wonderful, understanding and she instantly accepted our case. We sent information over email, and met once and signed documents and she and her team did the rest. A couple months later we get a settlement offer. It really saved me time and minimize stressed. I would highly recommend her law firm to those who have been in an auto accidents and felt their accident claims is not worth much.
On my way home from work on my bicycle I was hit in the bike lane by a neglectful driver. It seemed pretty straight forward when they admitted fault after launching me into oncoming traffic and causing injuries that they were to blame. Bring in the insurance companies somehow I was at fault? I didn't want to have to deal with the headache, but that's where Attorney Dan and Paralegal Guille came in. I followed there directions as they pursued compensation for my ER visits and post care. I got the treatment I needed while they fought to the end for what was right. On my end the whole process was easy as they dealt with the insurance company.  No one ever plans on getting injured but if it happens come to them if you're looking for GREAT COMPENSATION, headache free, correct care , and ones who will fight until you get what's rightfully yours. I can't thank them enough and will recommended them to many people as they were very professional and fair. Thank you for all your work you put into my case!
The absolute best!  They helped me through a very difficult time. They answered all my questions and returned every call.  They made a difficult situation much better.  They fought hard for me. The result was better than I ever imagined!!!  Awesome!  The staff are knowledgeable and very helpful.  Thanks to them I am doing well again.  I highly recommend you contact them.
Got rear-ended. Dan O' Donnell told me exactly what to do - set up the chiropractor appointments for me - a couple months later, I got a few thousand bucks from the insurance company. If you get injured in a car accident that is not your fault, hit up Dan the Man!
Highly recommend it is great law firm with a wonderful staff Daniel. Always notified me with updates regarding my case thanks to yelp in the ratings. I chose this law firm everything they said was positive
Hire an Experienced Sacramento Boating Accident Lawyer
Choosing a lawyer to claim for your boating accident requires effort and research. A lawyer with trial experience can be beneficial. Do Injury Law has professional Sacramento boating accident lawyers who can help to relieve some of your stress. We help clients recover the full compensation for their damages. After our attorneys help you avail of all the benefits as claims for your injuries, you can joyfully move forward with your life.
All boating accidents don't occur on recreational boats. Some accidents take place on commercial or fishery boats. Our team knows how to handle the case, whether it is a personal boating accident or commercial boating accident. In certain situations, you may feel that you don't even have a case. We recommend that you first discuss it with an experienced Sacramento boating accident lawyer to know the compensation you are entitled to. 
It is crucial to know what you must do to protect the legal rights of you and your loved ones. So, if you have suffered an injury in a boat accident in Sacramento, get in touch with us. We will help you claim compensation for your damages.
GET LEGAL ADVICE FROM AN ACCIDENT ATTORNEY NOW
No Fees Unless We Win Your Case!
When You've Been Injured, We Fight And Win For You!